Report of Industrial projects implementation in Vietnam Quarter I/2023
In 2023, the first quarter GDP growth rate started at 3.32%. The global economic situation still faces many challenges such as high inflation, tightened monetary policies in many countries, declining global demand, and the ongoing tense situation between Russia and Ukraine's war, which has greatly afftected Vietnam's economy, especially industrial production as costs rise and the number of orders decreases. This is evident in the clear decline in the growth rate of the industrial and construction sectors, which has continued to decline since the first quarter of 2018 (excluding the sharp decline in the third quarter of 2021 due to the serious impact of the pandemic), the growth rates of these two sectors recorded a negative growth rate of -0.4% in the first quarter of 2023.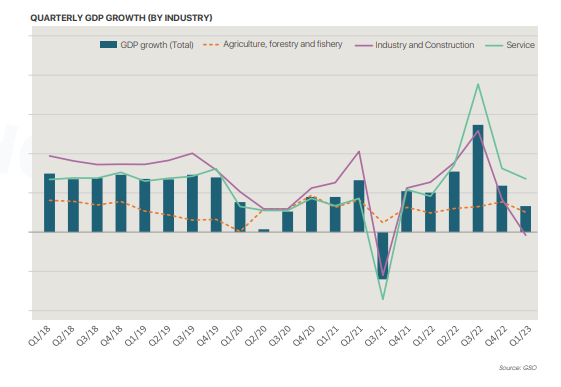 According to the General Statistics Office's report, the total registered foreign investment capital in Vietnam decreased by 19.3% compared to the same period last year. This figure is mainly due to the decline in the total adjusted capital (down 61% compared to the same period in 2022). The bright spot in the FDI attraction situation in the first quarter of 2023 is the growth in the number of projects compared to the same period (up 83%) and newly registered capital (up slightly by 7% compared to the same period in 2022). The good growth rate of the number of projects but not a significant increase in total capital shows that investors are still cautious about expanding production, leading to project scales not being too large.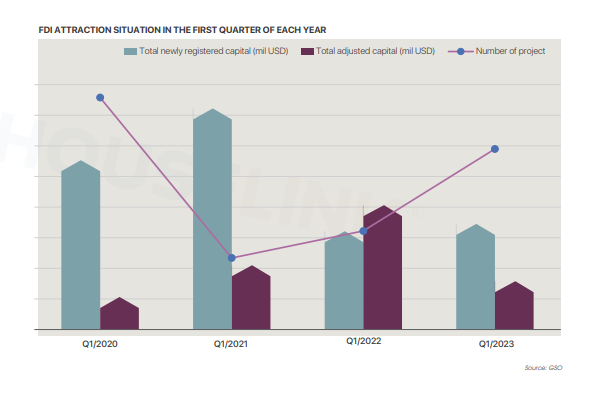 In Q1 2023, FDI new projects in the fields of Manufacturing, warehousing and transportation, real estate business, agriculture, energy, and industrial construction with leased workshops or leased land inside and outside Industrial Parks have increased significantly in both the number of projects and registered capital compared to Q1 2022. The number of newly FDI projects registered is mainly distributed in the North and South. The North emerged as the most vibrant market in Q1 2023, attracting many new projects in terms of both the number and total registered capital. Next are the South and Central regions. The Southern region, after a period of being a key area attracting projects, has started to slow down.
In Q1 2023, projects leasing factories accounted for a large proportion of registered investment projects. The number of land lease projects in Q1/2023 slightly increased, but the investment scale decreased compared to the same period in 2022. Compared to Q4/2022, we observed a decrease in both the number of projects and the investment scale of land lease projects.