The Explosion Of Investment Prospects In The Vietnam Electric Vehicle Market And Trends
In terms of sales of transportation vehicles in general, the world is currently facing a decline in the number of vehicles sold in recent times in most key countries. This decline is primarily due to a decrease in sales of internal combustion engine vehicles. It can be observed that the golden age of this vehicles type approaches its final phase due to resource depletion, continuously rising fuel prices, the constant vulnerability of supply chains, and particularly the environmental and health impacts due to the pollution caused. To overcome the mentioned problems, various alternative fuel sources have been innovated globally for environmentally friendly transportation vehicles, promoting sustainable development. These include electricity, hydrogen, compressed air, biofuels, etc.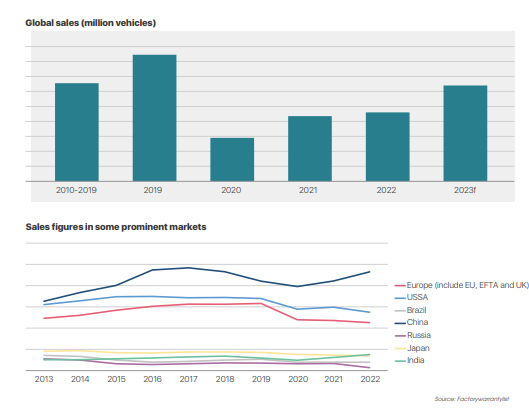 The electric vehicle market in Vietnam is still in its early stages of development. Vinfast is the first automotive company to produce electric cars with battery power in Vietnam. The total sales of electric vehicles in Vietnam still represent a very small portion compared to the total sales of cars in the overall market. However, in recent times, there has bee a noticeable growth thanks to the successful launch of Vinfast electric vehicles. Beside Vinfast, there are several other car manufacturers that have started selling electric vehicles, but mostly as imports. These include Porsche, Tesla (imported through private channels), Mazda, Audi, Nissan, Mercedes-Benz, BMW, Ford, Hyundai, Honda, Kia, Mitsubishi and more. Most of these manufacturers have limited sales and primarily focus on small-scale distribution through imports. This is a cautious step by car manufacturers because it is still the early stage of electric vehicle market development in Vietnam. The legal framework is not yet complete, and the charging infrastructure is underdeveloped, which creates hesitation among investors. However, electric vehicles are a global trend, and Vietnam is not exempt from this trend. Therefore, the current early stage is also a good opportunity for investors with suitable business models to break through and dominate the market.
The current charging infrastructure in Vietnam lacks policy mechanisms and standards for development. Only Vinfast has undertaken widespread construction of charging stations and a charging network to serve its electric vehicles. In addition, there are only a few small-scale charging stations located at showrooms or implemented by EVN (Electricity of Vietnam), but the quantity is not significant.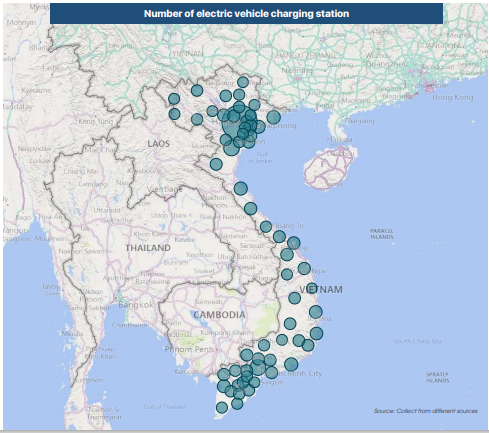 The current government has also taken initiatives to encourage the development of electric vehicles. One of the important measures is the policy of tax incentives for electric vehicles.
The government issued Decree No. 10/2022/ND-CP, which regulates the vehicle registration fee, including provisions for incentives for electric vehicles. According to this decree, electric vehicles running on batteries are exempt from the first-time registration fee for a period of 3 years from March 1, 2022 (the effective date of the decree). In the following 2 years, the first-time registration fee for electric vehicles running on batteries is set at 50% of the fee imposed on gasoline or diesel vehicles with the same seating capacity.
In addition to the above incentives, currently most financial incentives are primarily focused on developing clean-fuel public transportation. Other types of vehicles such as bicycles, motorcycles, and electric cars do not have specific financial incentives that can effectively encourage both investors and users. This is also one of the reasons why investors and consumers have hesitations and lack sufficient motivation to switch to electric vehicles, alongside concerns about infrastructure and technology.
HOUSELINK focus on analyzing the investment projects in the electric vehicle industry funded by FDI and DDI capital sources. Accordingly, the investment projects in the electric vehicle sector in Vietnam are quite consistent annually, although the growth rates are not evenly distributed. Initially, electric bicycles were introduced as a relatively cheap form of transportation with low quality and short battery life, often considered as secondary vehicles or used by individuals without a motorcycle license (this type of vehicle was mainly imported in the 2005-2006). However, this potential market has attracted many electric motorcycle and bicycle manufacturers to establish production facilities in Vietnam. The growth rate has particularly increased in 2022 thanks to investment projects in the electric car industry.
The majority of investment projects in Vietnam are focused on manufacturing and assembly (particularly for electric motorcycles and bicycles), accounting for 77% of the total investment projects. The production projects for components are primarily for electric cars and have seen an increase in recent times.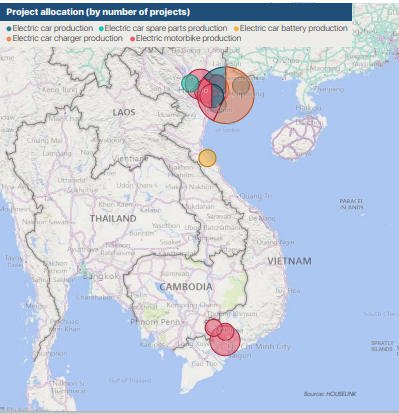 Source: HOUSELINK