Summary Report : Implementation of Industrial Projects in Vietnam Q3.2023
The GDP growth rate in the third quarter of 2023 is only higher than 2020 and 2021 but is showing a positive trend (Quarter 1 increased by 3.32%, Quarter 2 increased by 4.14%, Quarter 3 increased by 5.33%). In contrast, Quarter 1, Quarter 2 and Quarter 3 are all lower than the increased in the same period in 2022. Overall, the GDP for the first 9 months of 2023 increased by 4.24%, only higher than the first 9 months of 2020 and 2021 (which were 2.12% and 1.42% respectively). Globally, consumer demand remains low, trade protectionism is increasing, many countries still maintain tight monetary policies and there are risks in the financial and real estate markets. Therefore, the Vietnamese economy has also been somewhat affeccted. In general, the Vietnamese economy is facing many challenges this year but is currently improving in a positive direction.
In the first 9 months of 2023, Vietnam had 2,254 licensed projects, marking a 67% increase compared to the same period in 2022. Additionally, the total foreign investment capital recorded during this period increased by 7.7% compared to the previous year. Beside, newly registered capital also increased by 43%, while adjusted capital decreased by 38% compared to the same period last year. This indicates that new investors have a high level of confidence in Vietnam's investment environment and Vietnam is choosen as an ideal destination. On the other hand, existing investors tend to be more cautious in expanding production, one of the reasons being that global demand has not shown significant signs of recovery.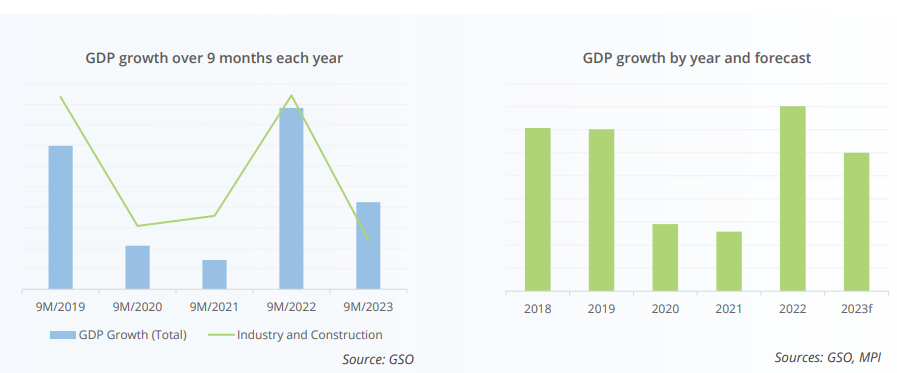 The number of newly projects as well as the amount of capital attracted in the first 9 months of 2023 has nearly doubled compared to the same period in 2022. It is evident that the Vietnamese market has significant potential and strong attraction for foreign investors. The number of newly registered FDI projects continues to be concentrated in the Northern region. In terms of total investment capital, we observe that the northern region attracts the majority of large-scale projects, followed by provinces and cities in the southern and central regions. It can be seen that the northern provinces are still a vibrant industrial market.

Throughout the quarters from 2022 to 2023, we have observed a noticeable growth trend in leasing RBF projects. Particularly, in the first and second quarters of 2023, the number of RBF leasing projects exceeded those of land leasing projects. The peak was in the third quarter of 2023, where the number of projects increased 4 times compared to the third quarter of 2022. However, in terms of investment capital, land leasing projects still have a higher total registered investment capital.