Vietnam's universities rush to train AI engineers
Vietnam's universities rush to train AI engineers  – An AI firm has recruited 12 students frim the University of Science and Technology with monthly pay of $6,000, or VND138 million.
The wage is high if noting that a university graduate in other training majors can receive VND5-7 million a month. This shows the high demand and short supply of AI engineers in Vietnam.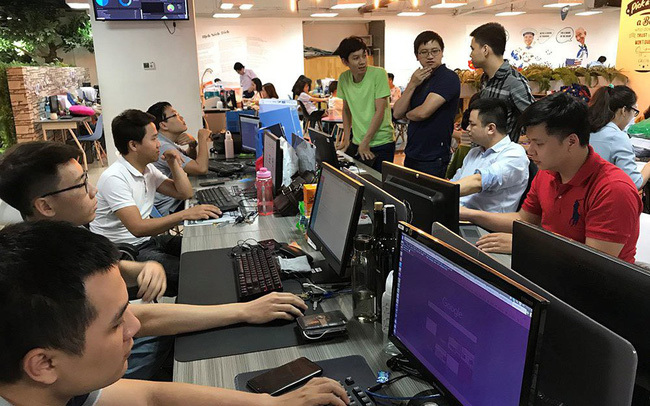 Labor experts said the majors related to IT and information security have become hot in recent years, attributed to the digital transformation trend all over the globe and in Vietnam, and the shift of software outsourcing needs of some countries such as Japan and Korea.
The demand for IT engineers has soared also because of the demand from some large corporations which have jumped into technology fields.
In the last four years, the number of software firms has increased by 124 percent. Therefore, IT engineers are being hunted. Many students can find jobs even while they study.
Surveys show that the demand for IT engineers has increased by 47 percent, while the supply by 8 percent only. As a result, Vietnam will lack 500,000 workers for the industry.
A report of TopDev says employers are willing to pay VND138 million a month for an IT engineer with AI knowledge and Japanese language skills.
Foreign firms are also seeking IT engineers in Vietnam.
The Hanoi University of Science and Technology is running HEDSPI, a Vietnam-Japan IT engineer training program. More than 60 percent of engineers finishing the training program can go to Japan to work with the average wage of $3,000 monthly.
Meanwhile, an AI firm has recruited 12 students of the program with the wage of$6,000.
Tu Minh Phuong from the Post and Telecommunications Institute of Technology (PTIT) commented that the demand will be high in upcoming years, for engineers in niche specialities such as data science, AI and information security.
Nguoi Dua Tin reporter that the Institute for Information Technology and Communication, an arm of the Hanoi Science and Technology, in 2019 is enrolling students for three majors – IT – Computing Science (IT 1), IT – Computer Engineering (IT 2) and IT – Data Science & AI (IT-E10).
Students now patmy attention to the school's Data Science and AI, an advanced training program designed and taught by Vietnamese and international experts. All subjects are taught in English.
The school plans to enroll 40 students for the program, but has received more than 900 applications, according to Ta Hai Tung, head of the Institute for IT and Communication.
In the north, only the Hanoi University of Science and Technology and the Hanoi University of Natural Sciences have the training majors, and the training is provided for master's education level only.
Source: vietnamnet.vn