Ho Chi Minh City to build 8 logistic centres
Ho Chi Minh City to build 8 logistic centres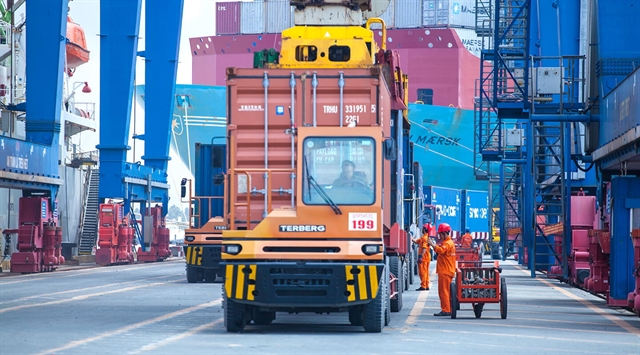 Cargo being loaded and unloaded at Cát Lái Port in HCM City's District 2. VNS File Photo/Ngọc Hải
Ho Chi Minh City should draft a master plan to develop its logistics sector, Phạm Thành Kiên, director of its Department of Trade and Industry, said.
Speaking at a conference held to discuss the development of the industry from now through 2025 recently, he said the city should learn from experiences in other countries and to develop the industry into one of its major sectors.
HCM City should be developed into a logistics hub for the region, and the cost of logistics in Việt Nam should be reduced to 16 per cent of the country's GDP (gross domestic product) by 2025, he said.
Hồ Thị Thu Hoà, head of the Việt Nam Logistics Research and Development Institute (VLI), said researchers for a project to develop the city's logistics industry have carried out fact-finding tours of eight locations where the city's logistics centres would come up.
They include the Đông Nam Industrial Park (in Phú Hoà Commune, Củ Chi District), Tân Kiên Port (in Tân Kiên Commune, Bình Chánh rural District), Cát Lái Industrial Park (in Thạnh Mỹ Lợi Ward, District 2), Long Bình ICD (inland container depot in Long Bình Ward, District 9), Củ Chi ICD (in Bình Mỹ Commune, Củ Chi rural District), Phú Định Port (in District 8), Linh Trung Export Processing Zone (EPZ) (in Linh Trung Ward, Thủ Đức), and Long Thới Commune in Nhà Bè rural District where the logistics centre of the Hiệp Phước Port Urban Zone will be built.
Many infrastructure facilities will be developed in these areas.
The five to be prioritised are the 50ha Long Bình, the 15-20ha Tân Kiên, the 100ha Cát Lái and Hiệp Phước, and the 15-17ha Củ Chi.
The city authorities will invest in the development of logistics and IT infrastructure and human resources.
It requires an estimated VNĐ9.07 trillion (over US$3.92 billion)  to develop the logistics industry in 2020 – 30, including VNĐ1,136 billion for the period 2020 – 2025.
Relevant agencies have also suggested the PPP (public – private partnership) model for developing infrastructure.
The project will be considered by the People's Committee in mid-December according to the department.
The conference was organised by the HCM City Trade Department, the VLI and other city agencies.
Source: VNS