Gia Lai to develop first wind power plant
Gia Lai to develop first wind power plant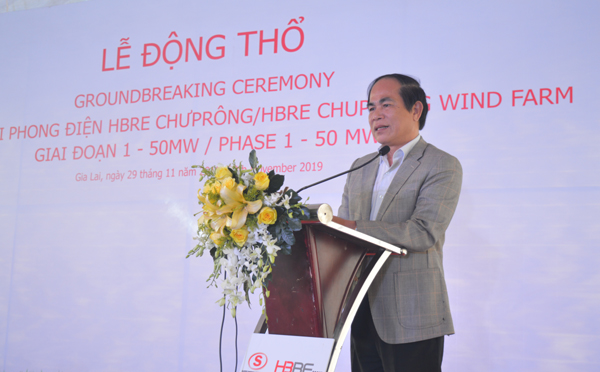 HÀ NỘI — Việt Nam-based HBRE Wind Power and Thailand's  Super Energy Corporation recently kicked off  a wind power project worth VNĐ1.8 trillion (US$ 77.7 million) in the Central Highlands province of Gia Lai.
Hồ Tá Tín, chairman of HBRE Group, said phase 1 of the HBRE Chư Prông Wind Power Farm Project would have a capacity of 50MW within 12 months and would contribute 110KV to the Diên Hồng- Chư Sê power grid.
Phase 2 of the project with a capacity of a further 50MW is expected to be completed before November 2021.
Chairman of Gia Lai's People's Committee Võ Ngọc Thành said: "Gia Lai has the potential to develop the largest wind farms in Việt Nam."
Thành explained it was the country's second largest province and a mountainous area with average altitude ranging from 700-800m above sea level and average wind speeds ranging from 5-8m per second.
Thành said the capacity of wind power in the east, southeast and west of the province and the area near Pleiku City could reach more than 12,000 MW.
According to the Global Wind Atlas produced by TrueWind Solutions in 2001, Việt Nam had the biggest potential for wind power among Laos, Cambodia, and Thailand. The Central Highlands and the central coast were found to have considerably good wind speeds for such projects.
Since its establishment in 2012, HBRE Group has implemented and put into operation wind power projects in Đắk Lắk (28.8MW), Phú Yên (Phase 1-200MW), Hà Tĩnh (120MW) and Vũng Tàu (Phase 1-500MW).
Source: vietnamnews.vn