City welcomes British investment in long-term projects
City welcomes British investment in long-term projects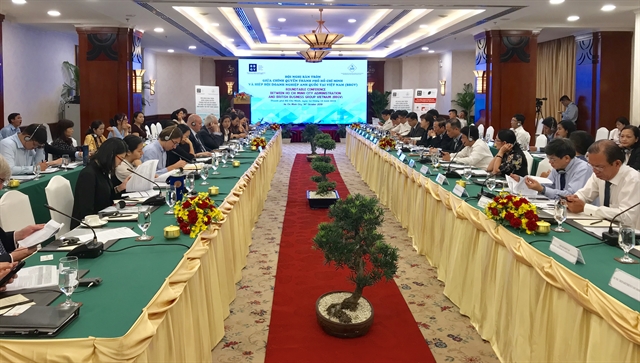 HCM CITY — HCM City authorities will create favourable conditions for investors who want to make long-term investments in the city, especially those from the UK, an official said on Monday.
Speaking at a dialogue between the British Business Group Việt Nam (BBGV) and city officials, Phạm Thiết Hòa, director of HCM City's Investment and Trade Promotion Centre (ITPC), said: "The UK has always been one of the city's most important partners in many fields such as education, banking and finance, hotels, real estate, and trade and services."
The UK business community is growing fast in both scale and quality of projects, showing huge potential for investment cooperation between the UK and the city, according to Hòa.
He said the city government wanted feedback from the British business community so that it could propose solutions to facilitate investment.
Kenneth Atkinson, a member of the board of directors at BBGV, said the UK government wanted to enhance trade ties with Việt Nam, particularly HCM City, and deepen the relationship between the two countries.
UK investors, he said, have been impressed with HCM City's dynamism and its development potential.
Since May, ITPC and BBGV have been addressing a list of 33 questions related to issues such as labour and social insurance laws, real estate and construction, and taxes, among others.
ITPC has been working with 16 departments and agencies to respond to all the questions and recommendations from businesses, according to Hòa.
The conference focused on solving 13 outstanding issues and answering additional questions raised by the businesses.
The roundtable discussed problems related to administrative procedures for enterprises and investors in HCM City.
With more than 500 members, the BBGV works closely with the British Consulate General and the UK Department of International Trade to promote two-way trade and investment between the UK and Việt Nam.
As of September, the UK is HCM City's biggest trade partner, with two-way trade reaching US$761 million last year.
The UK ranks 11th among 106 countries and territories investing in the city, with 153 projects worth over $600 million.
HCM City and the British Consulate General are also working on a project to develop a smart ticket system for the city's public transport network.
The city's ITPC has organised 188 direct dialogue meetings and conferences with trade promotion organisations and business associations, answering more than 784 questions from enterprises and disseminating new policies.
Source: Vietnamnews.vn