Smart city to boost sustainable growth and prosperity
Smart city to boost sustainable growth and prosperity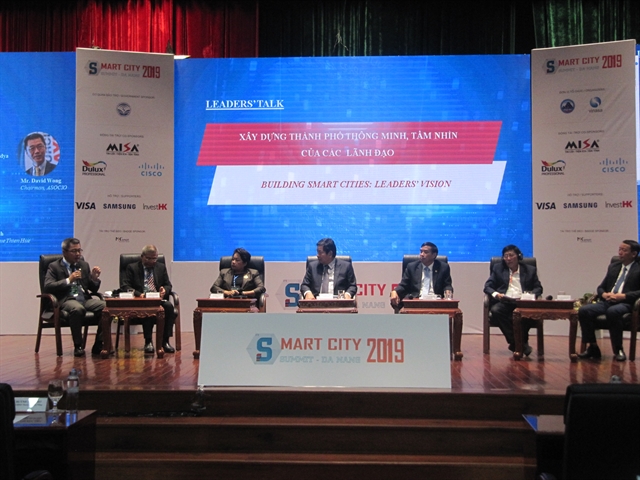 ĐÀ NẴNG — Smart city building is a crucial solution to boost economic growth and prosperity in Việt Nam, while investing in 'smart city' projects is the best way for Việt Nam to digitalise, an expert has said.
Chairman of the Việt Nam software and information technology service association (VINASA), Trương Gia Bình made the statement at the opening ceremony of the Smart City Summit in Da Nang City yesterday, stressing smart city development is crucial.
"It's a must and very urgent. We have a good choice for catching the world of rapid digitalisation. The government should offer smooth conditions for businesses investing in big data, digital platforms and infrastructure as well as speeding up digital economy transformation in the next decade," Bình said.
"It needs standardisation of data, effective exploiting of data and information technology infrastructure. Only smart city solutions will help administrations operate effectively, while earning satisfaction among people," he said.
Bình also emphasised that people, businesses and local governments must be involved in building smart cities, and serving the people has to be a focus of the smart city.
He said local people have the right to ask their local government for social security, fresh water, clean air, smooth traffic, safe food, convenient health care and transparency, and smart cities will be a sustainable and cost-saving choice for Việt Nam.
Nguyễn Mừng, solution manager of Phi Long Technology company, said it started building a smart traffic solution in Đà Nẵng from 2017.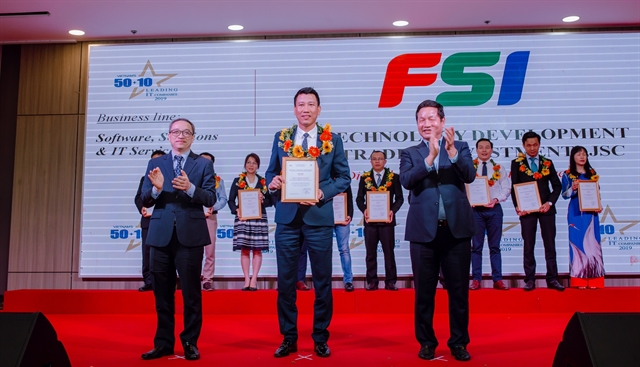 He said the system, which monitors 3,000 traffic cameras, has been operating at the city's congested sites as well as tracking traffic violations.
He said face identification systems have been developing at shopping and trading centres, hotels and restaurants in seven provinces and cities in Việt Nam.
Vũ Duy Linh, deputy general director of FSI company, said the document digitalisation software and smart database D-IONE, which has been used by nearly 1,000 customers including Pepsico and Honda Việt Nam, saved 80 per cent of working time and cut 50 per cent of costs.
Chaicharearn Atibaedya, president of ASEAN chief information office association (ACIOA), said a the association also aligned with initiatives to the ASEAN ICT Master Plan in 2020 including business collaboration, smart cities centre, university, crowd funding platform, cyber collaboration centre, intellectual property management, pricing standardisation, and ASEAN sustainability.
David Wong, chairman of Asian-Oceania computing industry Organisation (ASOCIO), said the concept of smart cities globally has various themes, including using information, communication and digital technology to address urban challenges, improving urban management and quality of life, increasing economic and business activities, and continuous public participation and urban innovation.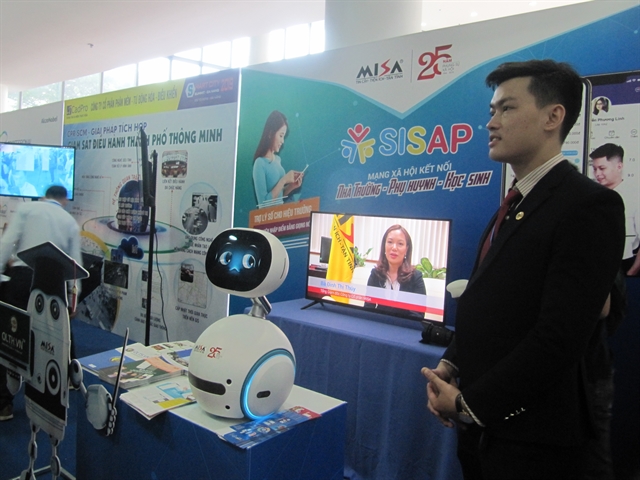 He said 60 per cent of the world's population will be living in urban cities by 2030, so more large cities will come by 2030, and globally 43 cities will have 10 million or more inhabitants.
Wong also unveiled challenges including lack of Internet of Things standards, legislation and policies as well as slow government procedure and reaction times as well as lack of confidence in using smart city services.
Chalermluk Kebsap, mayor of Patong City, Thailand, said the city prioritised building smart city solutions.
She said smart city solutions helped Patong control security and traffic to create a safe environment for tourists.
Also on the occasion, the Ministry of Information and Communication and VINASA presented certificates to the top 50 leading IT businesses in Việt Nam, and the top 10 businesses with capacity for the 4th Industrial Revolution.
In March, Đà Nẵng won an ASOCIO Smart City Award for its outstanding initiatives of a smart city during the ASOCIO Smart City Summit in Bangkok, Thailand, and it is planning to become the first city in Việt Nam to join the ASEAN smart city network by 2030.
Source: vietnamnews.vn