Implementation Summary Report Of Industrial Projects In Vietnam 2022
In 2022, Vietnam achieved impressive GDP figures with the highest quarterly growth rates in the past five years (7.72% in Q2 and 13.67% in Q3). These figures reflect a good recovery and growth rate after experiencing the severe impacts of the Covid-19 pandemic over the past two years in Vietnam. However, in Q4.2022, normally this is the time of peak growth, but the GDP growth rate of Q4 this year only reached 5.92% not as high as the previous quarters. This scenario had been predicted when the world economy faced many difficulties and Vietnam's macroeconomics has been affected also. The GDP growth rate for the year 2022 reaches 8.02%. Due to the current difficulties and challenges, GDP growth in 2023 is forecasted to reach 6.5%.

The total value of foreign direct investment (FDI) poured into Vietnam in 2022 was about 27.72 billion USD. The total registered capital of new projects, adjusted projects and capital contributions to buy shared decreased by 11% compared to 2021 and was the lowest in the same period in recent years. The main reason for situation is mainly due to the sharp decrease in global FDI, as well as political and economic conflicts that led to decline in the amount of foreign investment capital.

The Newly Registered Fdi Industrial Projects In 2022
The number of new projects in 2022 is slightly less than 3% compared to 2021. However, the amount of attracted capital is more than 27% compared to 2021. We believe that this is a common situation in many countries and is the result of the world economy being seriously affected in the past year. Especially when the world FDI capital flows are also tending to decrease. Although the Vietnamese economy in 2023 is predicted to be more difficult than 2022 due to the global macroeconomic situation not having many clear positive changes. However, we expect that with the efforts to maintain stable macroeconomic growth and promote government investment attraction, calling for FDI investment sources will maintain stability and growth in 2023.  
In 2022, land leasing projects still account for a higher proportion than factory leasing projects. However, the proportion of factory leasing projects has increased significantly compared to 2021. Nevertheless, the investment capital of factory leasing projects is still lower than that of land leasing projects. The capital sources for these two types of projects have also changed in 2022.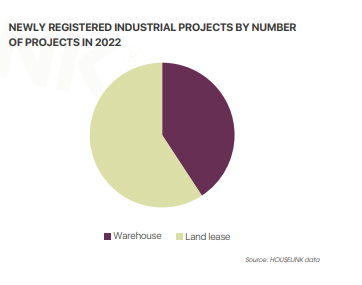 Electronics, plastics, leather, metal, and textile industries are the top sectors attracting the most FDI investment in 2022. Each province, however, attracts different characteristic industries.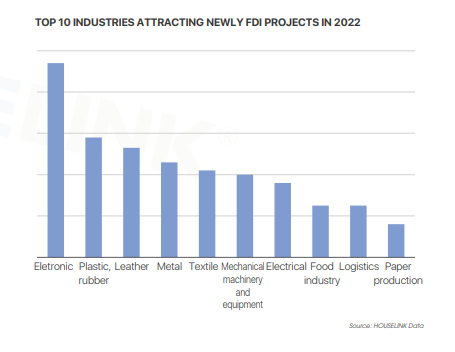 Overview of the implementation of Vietnam's industrial projects in 2022
In this section, we focus on analyzing investment projects from FDI and DDI sources with an investment capital of 02 million USD that has been verified on the HOUSELINK system, including projects that are currently under construction and those that are in the preparation stages of construction (such as project preparation, design, and contractor selection).
The number of projects in preparation for construction accounts for a large proportion in terms of both quantity and total investment capital
As part of the report on the implementation of industrial projects in Vietnam in 2022, HOUSELINK focuses on analyzing projects that are in the process of preparing for construction (Project preparation, Design, Tendering, and Contractor selection) and projects that are currently under construction based on criteria such as construction type, location, project type, and investment form.
In 2022, projects in the preparation and design phase account for the largest quantity and total investment among industrial projects. Due to the consecutive increase in raw material and fuel costs recently, construction costs have been greatly affected, not to mention the disruption of supply, which makes investors hesitant to invest and construct projects. The increase in the number of projects preparing for construction in 2022 compared to 2021 also shows a more positive growth trend in the supply of projects in the future.